About our Trucks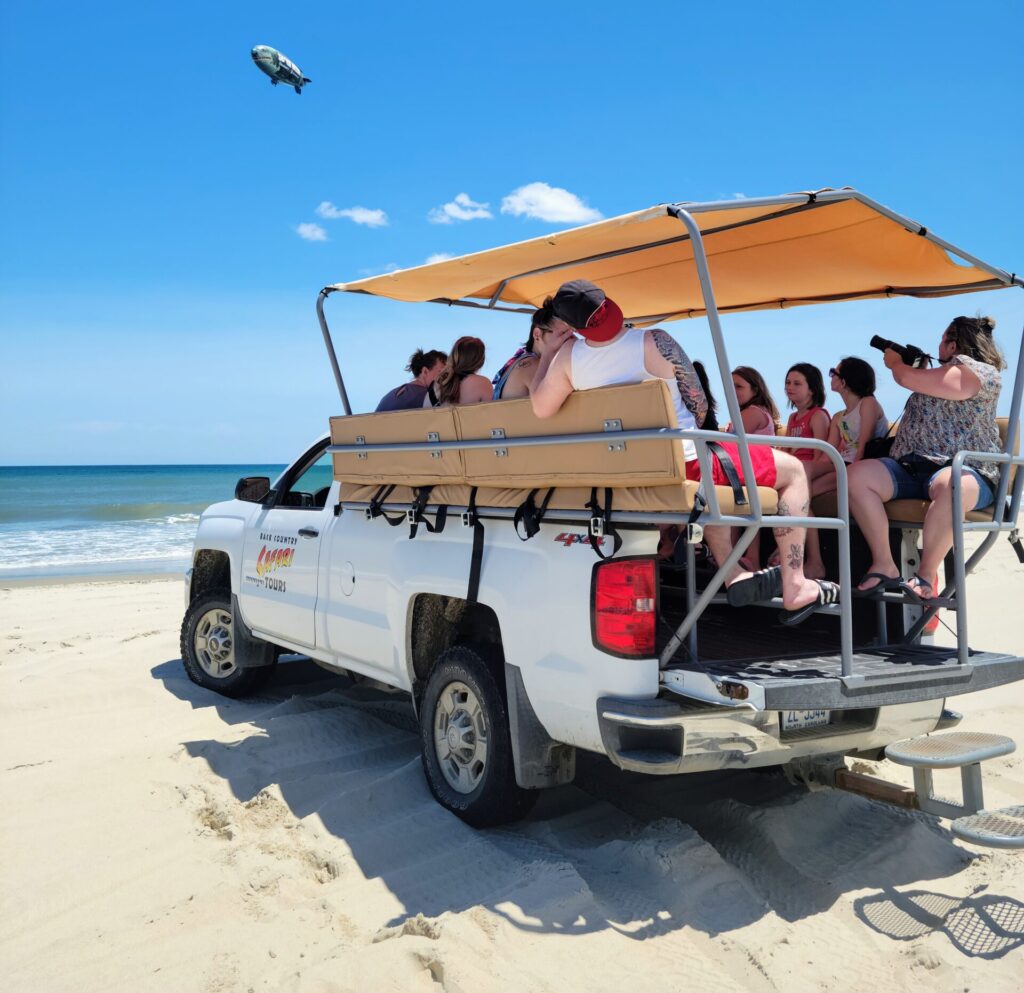 Our Custom Modified Open-Air Safari Cruisers are designed to give you a comfortable ride and a view unparalleled by other standard tour vehicles. Our custom fabricators have succeeded in combining the smooth ride of a Chevy Silverado 3500 HD Truck with a Panoramic Open-Air Viewing Cabin. Every Cruiser is equipped with 12 comfortable cushioned BENCH seats with lots of back support. No matter where you are seated, you'll have a continuous, unobstructed view of your surroundings, not the back of someone's head.
This Cruiser is outfitted with two bench rows of six, facing inwards and can hold up to 12 passengers.
Our Family Friendly Beach Cruisers are piloted by the best guides on the North Beach! Every one of our naturalists is Certified by The Corolla Wild Horse Fund annually to keep them up to date on the history of the Colonial Spanish Mustangs as well as current efforts ongoing to maintain the fragile habitat of these "Horses of Kings". Throughout the tour your guide will present a personal, real-time narrative about everything from nesting sea turtles to the history of the U.S. Federal Life Saving Service as you cruise through a thirty mile round trip of white sand beaches, wind-beaten dunes and lush, sub-tropical maritime forest. Attractions such as The Jones Hill U.S. Federal Life Saving Station from 1874, to The Wash Woods Coast Guard Station from World War One, and stories about the "Mysterious Petrified Forest" and The Ghost Fleet of The Atlantic will keep you entertained and informed along your adventure. The design of the vehicle allows for great natural acoustics and every guest is close enough to the guide for a truly personal experience and lots of Q&A.
Each vehicle is covered with a UV Blocking Mesh tarp to keep you out of direct sunlight.