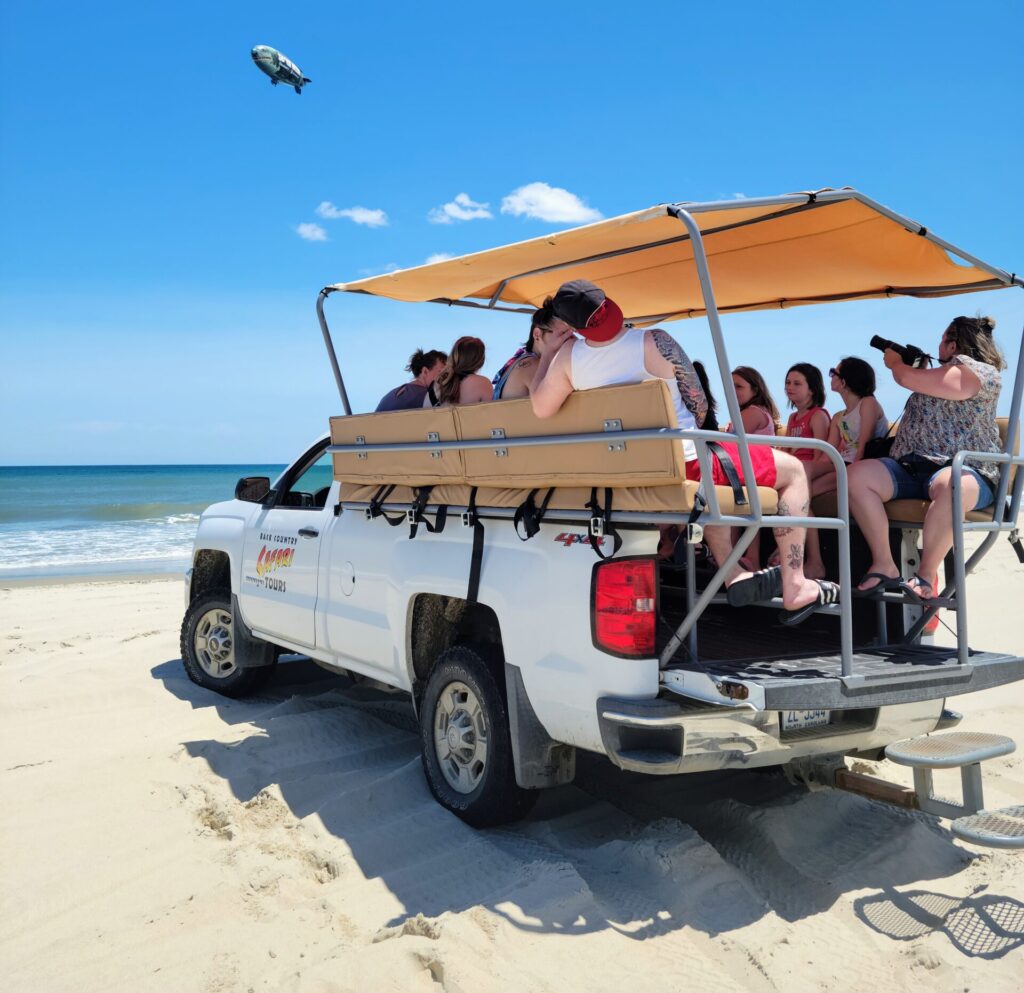 Wild Horse Safari Tour – 2 Hours
7 days a week: 8 am - 8 pm
Take a ride in our Custom Open Air Beach Safari Cruiser, with a Local & Professional Tour guide, to cover 20 to 30 miles on the North Beach while learning about the area and viewing the Colonial Spanish Mustangs.
For the safety of our participants, we are unable to accommodate anyone Under 1 Year of Age.
For Age 1-3, a Car Seat is required per Currituck County ordinance, provided by the participants.
More About this Tour
Where the road ends - the adventure begins!
Along the northern stretches of the Outer Banks lives a relic of a time long since past on these barrier islands. With an ancestry tracing back to the very first days of European exploration in North America, the legendary Spanish Wild Mustangs of Corolla still roam free over beaches, dune fields, and maritime forest as they have for hundreds of years.
Since 1993, Back Country Safari Tours has been providing the world an opportunity to view these majestic creatures. Join us on a two hour Eco-exploration tour through nearly 30 miles of beach, dunes, and rugged sand trails in search of the legendary Wild Horses of Corolla.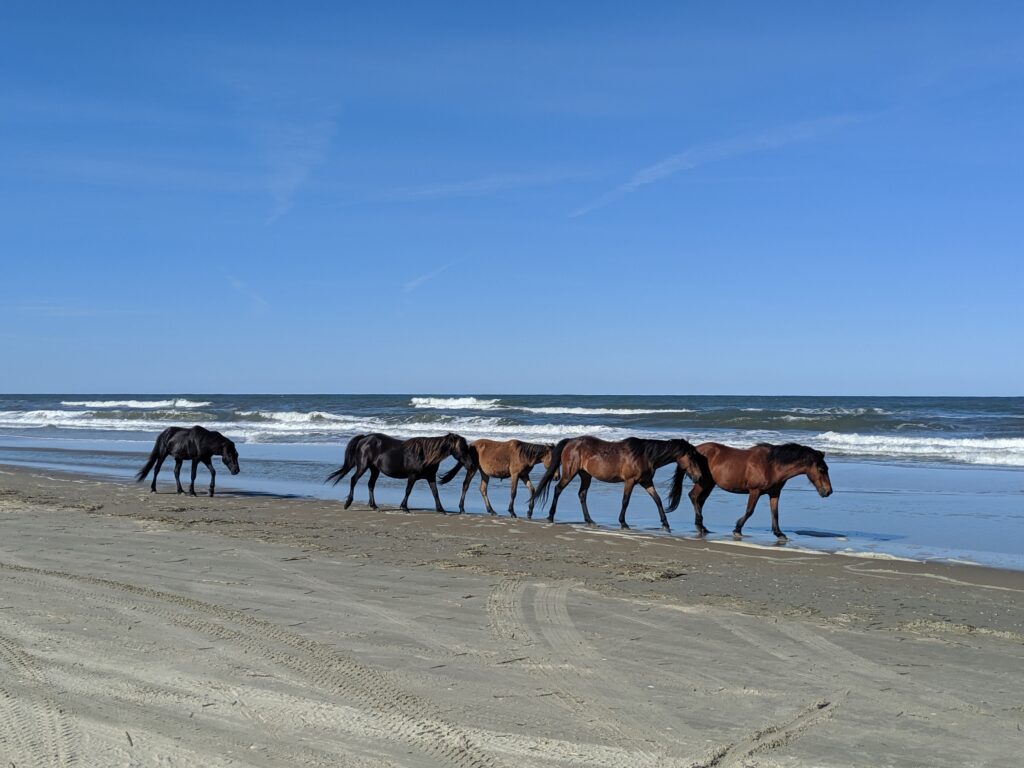 Our custom Open Air Safari Cruisers offer 360 degree views, maximizing the opportunity for you and your family to view and photograph not only the wild horses, but also dolphins, deer and other wildlife, and the nearly 400 species of shorebirds native to the barrier islands. Our cruisers offer memory foam seating, safety belts, and protective sun canopies, ensuring your experience will be as comfortable as it is unforgettable.
Our Certified Naturalist Guides are adept drivers, expert narrators, and prolific storytellers. Your guide will provide you with a wealth of information about the ecology, history, folklore and culture unique to the barrier islands. You will learn about the rich history of the area, and the conservation efforts that continue today. If you are visiting the Outer Banks, a visit to the northernmost beaches to see the Wild Horses of Corolla is a must. Book today to ensure your reservation for this once in a lifetime experience!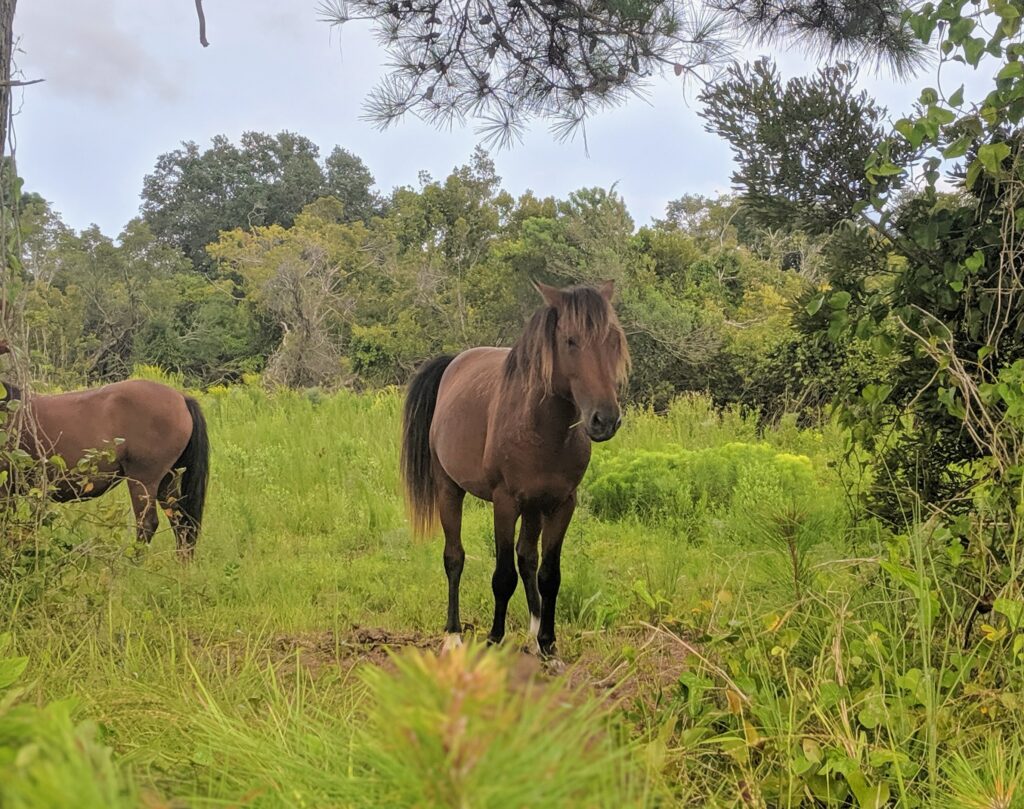 Join us on this unforgettable adventure into the back country in search of the Corolla wild horses!
Family Friendly
Naturalist Guide
Exclusive access to the Spanish Mustang Preserve
We are excited to have local naturalist guides, plus exclusive access to the private Mustang Preserve!
Make a Reservation Today!